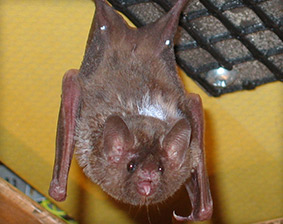 Bat Removal San Diego
Bats are protected animals. They should be handled with care by bat professionals with trapping experience.
Critter Gitters, LLC is the area leader in professional bat removal and bat exclusion. Proudly serving in San Diego, Los Angeles, and Orange Counties. If you are experiencing a bat problem, we will perform a complete home inspection, and design a program that will remove your bat infestation quickly, and worry free. Once the bats have been removed from your home, we will seal all gaps and completely "bat-proof" the structure.
We guarantee we will get all the bats out, and keep them out. Our trained professionals will take the time to do the job right so that you won't have bats returning. All bat exclusion services performed by us are backed by an industry leading warranty.
For all Bat Emergencies call
619-820-8993

any time day or night and we'll come to the rescue!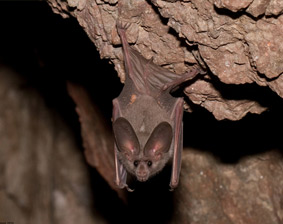 Bat Biology
Bats found across the United States of America might possibly be the most misunderstood animal we deal with today. Contrary to popular belief, bats are very beneficial to the overall ecosystem, keeping insect populations down by consuming enormous numbers each year. Almost every bat species found in the United States, and over 70 percent of bat species worldwide, feed primarily on a multitude of insects, proving very helpful. Bats are the only major predator of night-flying insects. In fact, a single bat can eat between 500 and 1,000 insects and other pests in just over 60 minutes!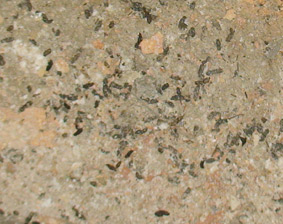 Property Damage
Bats are usually found in the walls of buildings, attics, or in the spaces between the roof and ceiling. It's usually common to hear the tell-tale squeaking from within your walls or attic during the day while they are at roost.
Bat dropping (guano) can not only cause an awful smell to permeate through the house, but can spread disease through your home and damage expensive items such as Heating and Air Conditioning systems. This is why bat removal must be done safely by a team of certified professionals.
At Critter Gitters, we will take care of everything from humane bat removal to clean-up and disinfection. Avoid the headaches and dangers of bat removal on your own and call Critter Gitters today at 619-820-8993.
Bat guano can accumulate quickly when dealing with bats in your San Diego home's attic.
Bat Infestation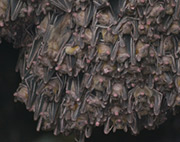 A colony can hold anywhere from one to several hundred bats! Bat colonies are also able to double in size with each passing year. Bats in San Diego are inclined to hibernate or return at the same location from year to year unless properly removed and excluded from their entrance points. They are not a creature that flies south for the winter months. Instead, the prey prefer to roost and hibernate in places with a moderate temperature such as active commercial and residential properties.
The longer a bat resides in your home, the chance your bat colony will begin to breed increases and they will continue to infiltrate deeper into your home, occupying smaller spaces and thus making bat removal much more complicated. Proper removal of the entire colony and professional clean-up of the remnants can require ripping out drywall, sheating and flooring. Critter Gitters will handle every step of this difficult process for you. We're just a phone call away at 619-820-8993.
Bats In Your Home
When a bat is found in your home, that may be a sign that the house is not properly weather-sealed. If this is the case, taking the appropriate measures to locate these breaches and have them sealed is imperative to keeping bats out of your home. As an added bonus, removing these openings can drastically improve your home's ability to insulate, saving you money on your energy bill.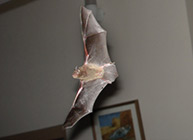 If dealing with a single bat within your home, the best approach is not to panic and simply open a window. The bat also has no desire to stay in your living room longer than absolutely necessary. The bat will fly in a circle around your room, using its sonar to detect the open window, before hopefully flying out on its own. If you can stay in the room with all the lights on, this is best to make sure the bat has left. The whole process should not take more than a few minutes. Never attempt to catch a bat with your bare hands, there is a good chance they will bite you in an attempt to protect themselves.
If the bat disappears within the room, it is most likely hiding behind a cabinet or other sheltered area. As before, keep a window open. Turn off the lights and exit the room, ensuring all doors to the room are closed. Within the hour, the bat should exit through the window.
When you see only one or two bats, this could simply mean they got in through an open window. In other cases, this could be a sign that a bat colony has already been established within your attic or crawl spaces. When seeing bats fly in and out of a hole in the house, this is a sure sign of an advanced bat infestation. When they become a nuisance the best option is to have the building professionally bat-proofed. Critter Gitters is completely qualified to handle the whole process. Have home insurance? We'll talk directly to your insurance provider and negotiate a price so you can avoid the headache.
Speak to a San Diego bat removal expert at
619-820-8993

.
Keeping Bats Humanely Under Control
Because of the beneficial eating habits of the bat, addressing a bat colony problem in a non-lethal manner is recommended. Over the years pesticides, pollution, people, and the loss of habitat have contributed greatly to a reduction in the bat population. Critter Gitters takes every care possible to remove bats from your home in a way that does not harm them. Doing our part to maintain San Diego's ecological balance is a big part of our commitment to the community. As local San Diegans that work and live in this beautiful city, we want to help keep it beautiful for many years to come.
Bat Exclusion Methods
The only permanent solution for ridding your home of a troublesome bat colony is to exclude them from every possible entrance point. Locating every possible entrance is the most important step before executing a complete bat exclusion plan. The time of year for bat-proofing your home also plays an important factor.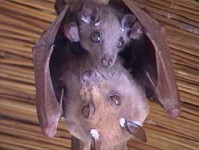 During the months of May to August, bats spend their time forming nursing colonies and raising their tiny young. This can cause major problems if trying to perform a bat exclusion because sealing the entrances with the bats already inside would seal many bats in to die, separating mothers from their unable to fly young. Bats able to escape are more likely to find exits leading into the home, increasing risk of possible human contact. As the bats that were trapped begin to decompose this will create an extremely offensive odor that can make living in a home unbearable. The scent this creates can actually increase bat activity in the long-term as well!
This is why having a professional like Critter Gitters evaluate your issue and provide you with a detailed bat exclusion plan is necessary to ensure your situation is resolved without complications.Get peace of mind and call Critter Gitters at 619-820-8993.
All of our work is guaranteed. Our methods include:
Initial Inspection — During our technician's first visit we will inspect the building to determine the level of infestation, make note of every obvious entry point, and begin to get an idea of how we will customize exclusion devices to suit your building's needs.
Exclusion Device Installation — We will customize and install exclusion devices at all major entry/exit points around your house, depending on your situation's requirements.
Sealing of Peripheral Entry Points — Our professionals will meticulously work through your entire building, sealing all secondary or peripheral entry/exit points.
Sealing of Major Entry/Exit Points — Seven days after the exclusion devices are installed, all of the roosting bats will have left your building in search of food or water. Extremely loyal to roosting sites, the bats return again and again but are unable to re-enter, so they seek alternative roosting sites. At this point, we come back, remove the exclusion devices and permanently seal points of entry.